Study abroad in Europe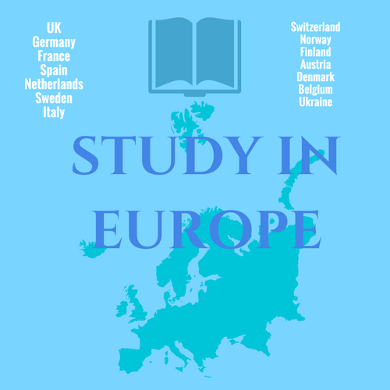 Why Study in Europe?
Europe is rich in innovation. Some the world class companies in technology/design are from Europe. European Universities offer a variety of programs (recognized all over the world). The European Union submits over 44% of the total number of patent applications worldwide. Some countries offer free education! Cheap and tuition-free higher education is offered in Germany, Norway, Sweden, Denmark, and Finland.
Nursing, Psychology, Law are most popular majors.
Germany, UK, Netherlands, and France are top destinations for international students.
Aalborg University, Denmark require (for MS in CS) IELTS with a score of at least 7 or TOEFL score of 100
Finnish universities have no tuition fees (except Student Union Fees which is like 80 euro/yr) for regular degree students - education is subsidized by the State through the Ministry of Education. This also applies to the international degree students and to exchange and visiting students as well.
Germany, Norway, Sweden, Finland, Denmark have very low tuition fees (or almost zero), but not all courses are in English. From 2017 Non-EU/EEA students will have to pay tuition fees for studying in Finland (for English courses)
'EPFL - Swiss Federal Institute of Technology' Lausanne require TOEFL + GRE (not required)
Average salary for INSEAD MBA graduate in 2016 was USD 104,000. (Average GMAT score for admitted students was 703).
Delft University of Technology: Computer Engineering: A Grade Point Average (GPA) for the BSc program of at least 75% of the scale maximum. A Graduate Record Examination (GRE) score of at least 450 verbal/550 analytical/650 quantitative. Proof of proficiency in the English language: a TOEFL score of 90 on iBT (TOEFL) or an IELTS (academic version) overall Band score of at least 6.0.
Moscow State University offers excellent programs in Physics and Material Sciences.
Typical Swedish University requirements.. - Master program: TOEFL at level 550 (213 computer based) or above, IELTS 6.0 or Cambridge Certificate of Proficiency. In addition to these general requirements, the applicant must meet the special requirements that apply to each of the programs.
Study in European Countries
Find information on Universities, admission procedure, courses, student visa etc for various countries within Europe.
First and foremost, one of the largest requirements to studying in Austria is the ability to comprehend the local language: German. Majority of the courses and instruction provided through universities are offered only in German;
Spain has been listed as the third most popular countries for international studies, with almost a third of those students originating from the United States
Admissions
Top Programs